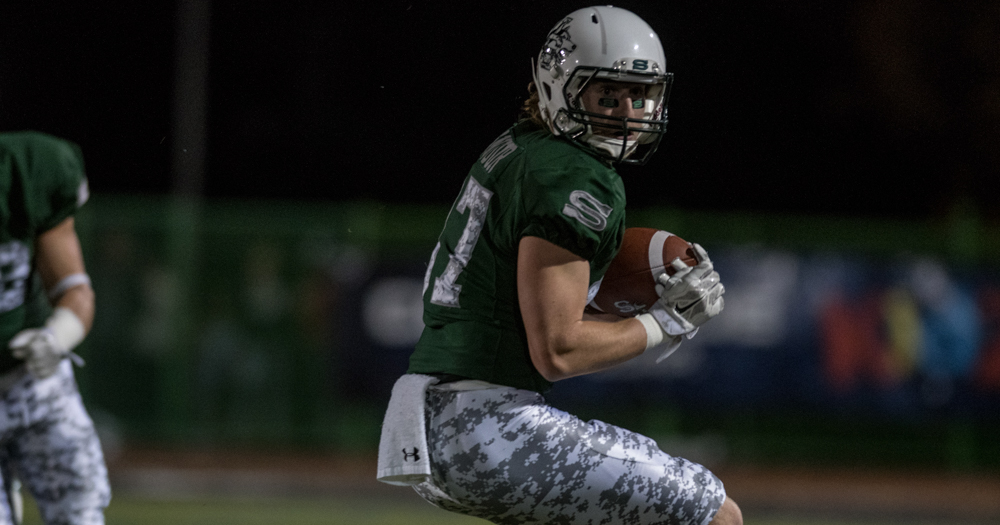 SASKATOON – The No. 9 ranked University of Regina Rams staved off a University of Saskatchewan Huskies third quarter comeback bid for a 50-40 win Friday night in Griffiths Stadium in PotashCorp park.
Saskatchewan trailed the Rams 29-10 at half and put together a three-touchdown, 22 point third quarter to pull within four points at 36-32.
But Regina turned the tables back in their favour quickly in the fourth scoring just 1:57 in the frame to pull back ahead by 10. The Huskies wouldn't find the end zone again until the final drive of the game.
With the win, the Rams improve to 3-2 heading into the Canada West Football bye week. Saskatchewan drops to 2-3.
"We came back and were within four points and kind-of took a step back from where we were in the third quarter so we have to continue that," said Huskie head coach Scott Flory. "I challenged the guys and they stepped up (in the third quarter) but we weren't making the plays when we needed to make them in the fourth."
The provincial rivals combined for 873 passing yards and 10 passing touchdowns in the games including two by Rams' fifth-year Mitchell Picton and three by Huskies' fifth-year Mitch Hillis.
Regina led in the run game piling on 229 yards to the Huskies 48. The Rams also found the end-zone twice on the ground.
Regina quarterback Noah Picton completed 33-of-44 passes for 384 yards on the night, connecting with receiver Ryan Schienbein a total of eight times for a game-high 125 yards. He finished with five touchdown passes in front of nearly 4,731 Huskie fans.
Picton handed the ball off to Atlee Simon 18 times and connected with him in the air seven more, including for the game's first touchdown. Simon finished with 163 rushing yards and 72 receiving yards, running in the game's final score to stretch the Rams' lead to 50-40.
Nick Cross led the Rams with seven tackles while teammate Zack McEeachern finished with 6.5. Despite the high score, the Rams' defence was able to shut down the huskies when it mattered most.
Huskies quarterback Kyle Siemens threw for 489-yards and five touchdowns and added eight-yards on the ground.
Besides Hillis, Saskatchewan receiver Chad Braun chipped in offensively catching seven targets for 98 yards and a touchdown. Samuel Baker caught a 29-yard pass and scored the Huskies final touchdown on the final play of the game.
Brett Boechler led the Huskies with a game-high 12 tackles, while Bowan Lewis chipped in with another eight on the night.
Saskatchewan returns to the field on October 14 hosting the UBC Thunderbirds, while the Rams travel to Edmonton to meet the Alberta Golden Bears.