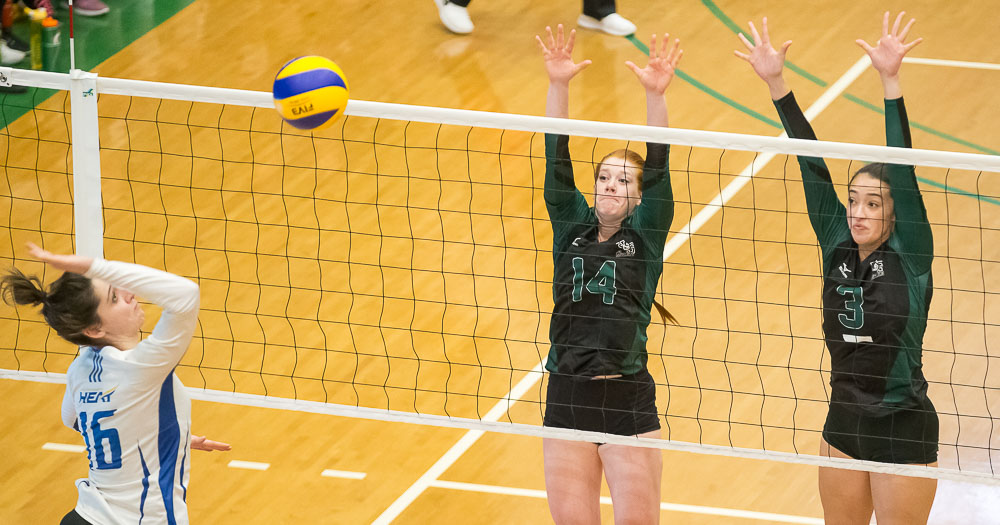 Tanner Michalenko, Saskatchewan Sports Information Student Assistant
SASKATOON – The No. 2 ranked UBC Okanagan Heat won three straight sets en route to the 3-1 (23-25, 25-23, 25-12, 25-19) victory against the University of Saskatchewan Huskies Saturday night on Ron & Jane Graham Centre Court at the PAC.
It was the final regular season home game for the Huskies as they said farewell to fifth-year athletes Marguerite Ferguson, Mackenzie Pek and Jenelle Sokoloski.
The Heat improve to 14-4 with the weekend sweep. The Huskies fall to 9-11. A night earlier, the Heat won 3-0 (25-15, 25-19, 25-12).
Fourth-year Siobahn Fitzpatrick led the Heat with a match-high 17 kills, 10 digs and two service aces. Fifth-year Michelle Jakszuk finished with 14 kills, 14 digs and a block. Two others finished with 12 kills apiece.
For the Huskies, third-year Carissa Noble had a team-high eight kills with a block, dig and a service ace. Taylor Annala recorded seven kills, nine digs and three blocks.
Down 23-19 in the first set, the Huskies needed a big rally to earn their first set victory of the weekend against UBC Okanagan. A Heat service error returned the ball to Saskatchewan and they wouldn't look back going on a 6-0 run to take the set 25-23. Annala supplied two kills during the run, including the final point for Saskatchewan.
A 12-1 run in the middle of the second set turned an 8-7 Huskie lead into a 19-8 Heat lead. The Huskies battled back to finish the set on a 14-5 run, falling just short of the comeback as the Heat escaped the second with a 25-23 win.
Up 22-13 late in the third, the Heat looked to avoid the comeback scare experienced in the previous set. Fourth-year Sabrina Balisky's kill gave herself the service, where she would narrow the Heat lead to 22-17, but that's as close as they would come. Fitzpatrick's kill put a halt to the Huskie run before fourth-year Ann Richards had the final kill. The Heat took the third set 25-17.
Fitzpatrick and Jakszuk secured the Heat win in the fourth set. Jakszuk had four kills and two service aces, while Fitzpatrick's nine kills included a run of five straight that propelled the Heat over the Huskies in the fourth, 25-19.
The Huskies are the on road for the remainder of the season, travelling to Edmonton to meet the Alberta Pandas next weekend. The Heat will go on to play a home-and-home series with the Thompson Rivers WolfPack.