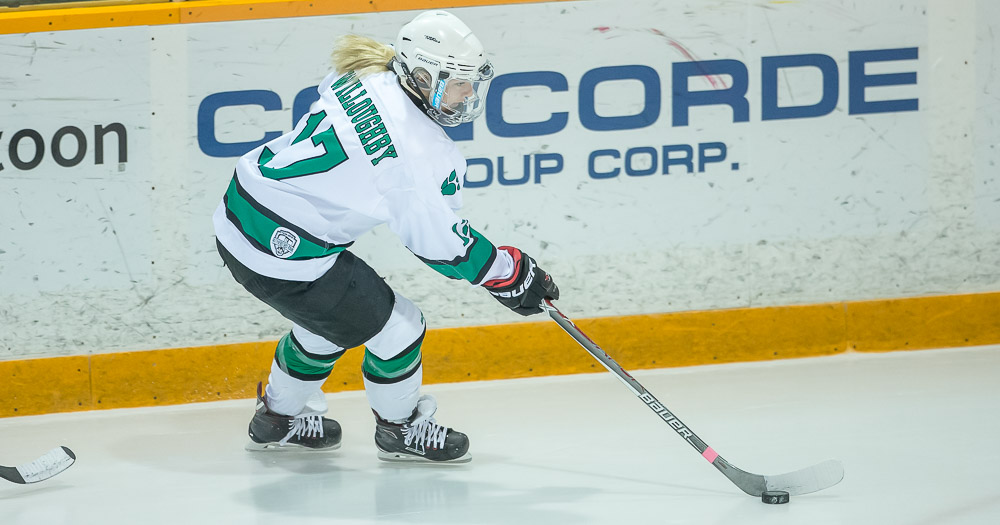 Written by: Austin Frame, Bison Sports
WINNIPEG - The No. 1 University of Manitoba Bisons were crowned the champions of Canada West for the third time in the history of the program after a 5-2 win over the No. 8 University of Saskatchewan Huskies in Game 2 of the Canada West women's hockey Final Saturday.
The Bisons victory was fueled by a three goal second period, followed by a fourth in the later stages of the third period from Jordyn Zacharias to seal the victory for Manitoba.
The Bisons turned up the pressure at the midway point of the first period, creating multiple quality scoring chances including a point shot from Fyten which was then tipped in front by Zacharias, but Saskatchewan goaltender and former Bison Jessica Vance was up to the task, and continued to make timely saves throughout the rest of the period on a number of Manitoba chances.
Manitoba goaltender and 2017-18 Canada West All-Rookie Lauren Taraschuk calmly continued to be a difference maker for the Herd, stifling every Huskie opportunity that came her way. She came into game two of the series without allowing a goal for a combined time of 224:15 over her last three games.
In period two, Manitoba controlled the opening minutes and were rewarded for their efforts when Charity Price banged home a loose puck in the crease in the crease past Vance to open the scoring and give the Bisons the 1-0 lead at 5:36 of the second.
Manitoba did not waste time adding to their lead, when just minutes later Alana Serhan took a breakaway pass from Courtlyn Oswald and buried a wrist shot at the 7:29 mark of the second.
The home side broke the game open just minutes later when Sheridan Oswald fed a pass through a Huskies defender in the slot to an open Natasha Kostenko, who made no mistake and rifled a shot over the glove of Vance and in the top right corner.
Saskatchewan got on the board at 15:15 of the second, when Kaitlin Willoughby blew by the Bisons defenders and blasted a shot past Taraschuk, ending her shutout streak at 259:30 and bring Manitoba's lead back down to two goals going into the final period.
The Huskies didn't wait around to put another tally on the board, when Willoughby scored her second of the night off a shot from the half-wall just 1:18 into the third.
Zacharias late goal came at 15:04 of the third followed by an empty net tally by Courtlyn Oswald with 1:12 left to play.
The two teams are now off to the upcoming 2018 U SPORTS women's hockey national championship in London, Ontario from March 15-18, 2018.
Three Stars:
1 – Alanna Sharman – Man (2A)
2- Kaitlin Willoughby – Sask (2G)
3- Natasha Kostenko – Man (1G)