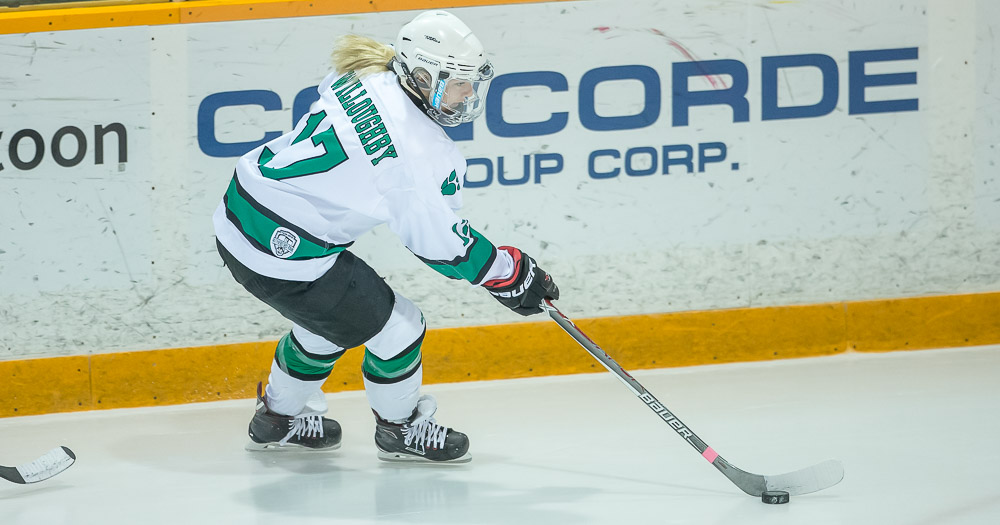 SASKATOON – University of Saskatchewan captain Kaitlin Willoughby scored the lone goal in the shootout to lift the Huskies 2-1 over the No. 3 ranked UBC Thunderbirds Saturday night in Rutherford Rink.
Willoughby's wrist shot beat UBC netminder Amelia Boughn into the upper part of the net. The fifth-year was Saskatchewan's second shooter. Fellow fifth-year's Kennedy Harris and Kori Herner were both stopped by Boughn, while Huskie netminder Jessica Vance stopped Shay-Lee McConnell, Cassandra Vilgrain and Mathea Fischer.
With the win, the Huskies improve to 16-6-1 on the season. UBC drops to 16-5-3. The teams are now tied with 48 points in the standings with four games remaining in the season. Saskatchewan has won all four meetings with the T-Birds in 2017-18, a feat not done since the 2011-12 season. In the four meetings this season, UBC only scored two goals against the Huskies.
Logan Boyd tallied at 17:00 minutes in the second period. The teams were playing four-on-four after penalties by each team 14 seconds apart. Hannah Clayton-Carroll sent the put in front of Vance to a streaking Boyd, who flipped the puck past Vance stick side into the left of the net.
The goal stopped a shutout streak of 273:41 for Vance. The total puts her third on the Canada West all-time list.
Harris tied the game at 12:35 in the third period on the power play. A bouncing puck from the back board landed on Harris' stick, she quickly shot the puck by Boughn before the goalie knew where it was.
Vance made 21 saves in regulation and overtime in the win, while Boughn stopped 39.
The Huskies remain at home to host the Alberta Pandas next weekend, while the T-Birds return home to host the Mount Royal Cougars.