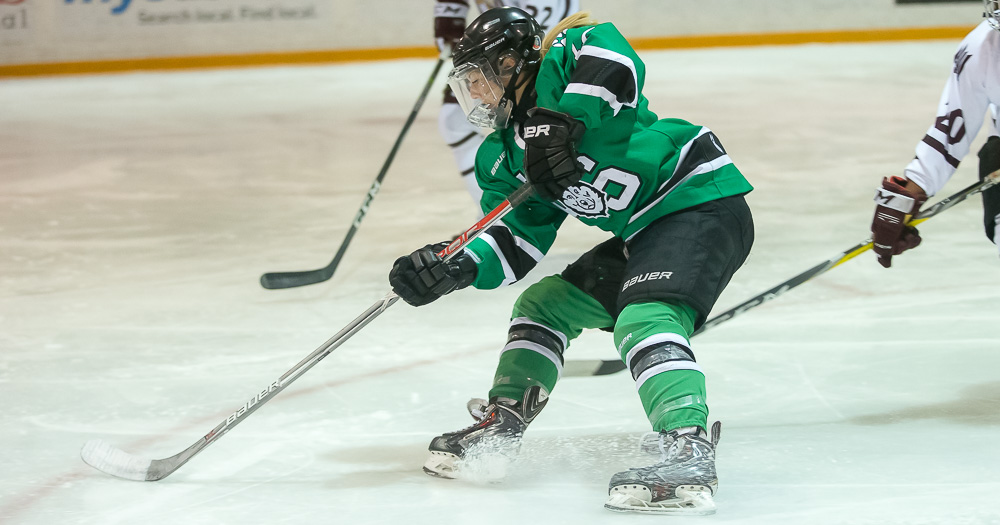 SASKATOON – A University of Manitoba power play goal late in the third period lifted the Bisons to a 3-2 win over the University of Saskatchewan Huskies Saturday night in Rutherford Rink.
Manitoba alternate captain Erica Rieder tallied with the man-advantage at 15:33 with a shot from the right slide that slipped by Huskie netminder Chloe Marshall.
With the win, the Bisons are 3-3-0 on the season. Saskatchewan drops to 3-2-1 after the weekend split. A night earlier, the Huskies won 1-0.
Manitoba opened the scoring at 14:12 on a partial breakaway by Jordyn Zacharias in the first period. The Bisons would extend the lead to 2-0 quickly in the second frame when Alanna Sharman tallied at 3:48.
The Huskies' captain Kaitlin Willoughby cut the lead in half at 7:11 in the second period when her quick shot from the left side beat Rachel Dyck at the top of the net sliding just under the cross bar. Willoughby tied the game for the Huskies at 11:50 when she found her own rebound in front of the net.
Dyck finished the night making 25 saves for the Bisons, while Marshall stopped 19 for the Huskies at the other end of the ice.
The Huskies remain at home to host the Calgary Dinos, while the Bisons travel to Calgary to meet the Mount Royal Cougars.