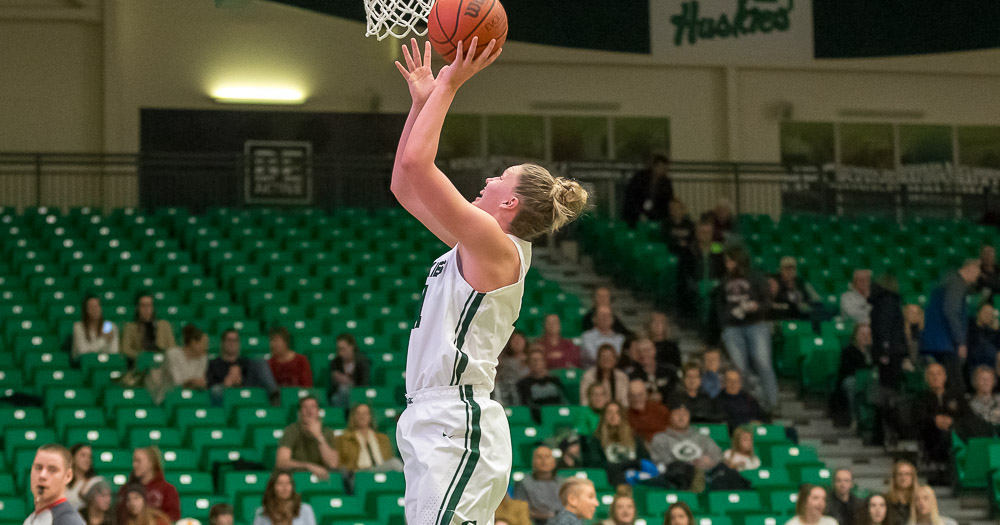 SASKATOON – Holding on to a first quarter lead, the University of Saskatchewan Huskies salvaged a weekend split with the visiting University of Calgary Dinos after a 67-57 win Saturday on Ron & Jane Graham Court at the PAC.
With just over two minutes left in the first quarter, the Dinos had 13-9 lead. Saskatchewan went on a 7-0 run to close the opening 10 minutes to take the 16-13 lead. The Huskies never looked back and had as large as an 18-point lead at one point in the game.
Saskatchewan led 34-26 at halftime and 52-39 after the third quarter.
With the win, the No. 5 ranked Huskies improve to 9-1. Calgary is 7-3. A night earlier, the Dinos won 74-68.
Three different Huskies recorded double-digits in the game. Summer Masikewich led the trio recording a double-double with 17 points and 14 rebounds. Libby Epoch tallied another 16 points for Saskatchewan, while fifth-year Megan Lindquist added another 15. Lindquist also added seven rebounds.
Shannon Hatch led the Dinos in the game recording a game-high 18 points, while Brianna Ghali added 13. Ghali and Erin McIntosh each recorded six rebounds for the Dinos.
The Dinos shot 36.7% in the game, while the Huskies converted at 37.9%. Saskatchewan also won the battle on the boards outrebounding the Dinos 40-30.
It's the final weekend of Canada West women's basketball in the first half of the season.
Saskatchewan and Calgary both return to the court in January. The Huskies travel to Edmonton to meet the MacEwan Griffins January 5-6, while the Dinos meet the Alberta Pandas in a home-and-home series starting January 4.