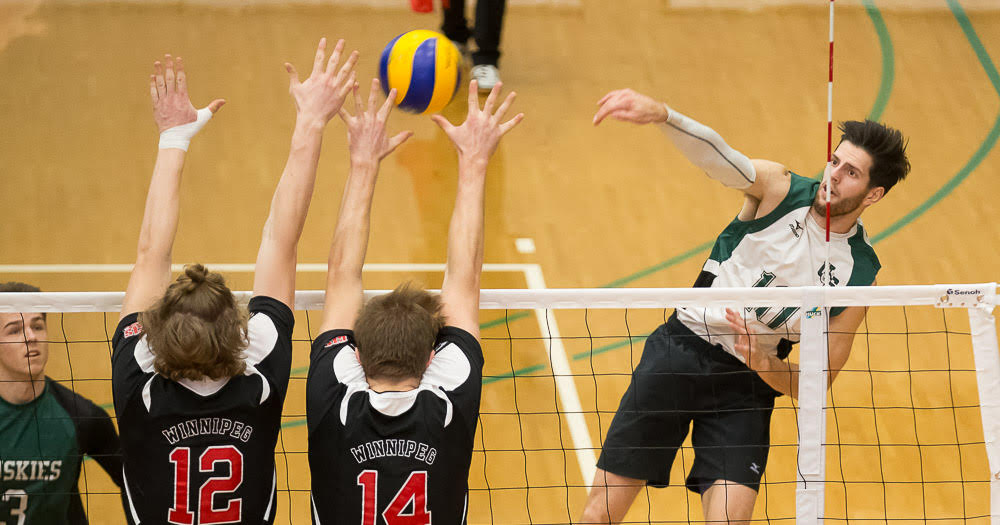 Kamloops, BC – The Thompson Rivers University WolfPack completed a weekend sweep of the University of Saskatchewan Huskies with a 3-2 (16-25, 20-25, 25-20, 25-17, 15-6) comeback win Saturday night.
In the first set, they got four kills from Dylan Mortenson(and outdug the WolfPack 10-4 to win 25-16.
Saskatchewan won the second set as Mortenson added six more kills. He was aided by Colin Frase who had four kills to give him eight on the night at that point.
The WolfPack had a big lead in the third set but the Huskies came back to go on a couple of runs before bowing 25-20. Tim Dobbert leading the kills parade in that set with three.
The fourth set saw TRU go on a 5-0 run early but Saskatchewan scored four straight to knot things at 7. It was the WolfPack who led at the tech time out by four (16-12) as Sam Taylor Parks ended a long rally by driving the ball down past a fallen Saskatchewan player. The WolfPack dug out a 25-17 victory to force a fifth and deciding set.
In that fifth set, Josh Mullaney and Dobbert led the way. Mullaney came up with four key points including three in a row to launch TRU to an 11-5 lead. Dobbert added two kills to wind up with 19 on the night.
After the weekend series, both the WolfPack and Huskies are 7-11.
Fraser and Mortensen each tallied 12 kills for the Huskies, while Aidan Saladana added another 10. Libero Etienne Hagenbuch recorded a team-high nine digs, while Mortensen and Wiebe tallied eight.
Dobbert led the WolfPack with 19 kills, while Mullaney added another 12. Landon Curried recorded a match-high 15 digs.
Saskatchewan returns home to host the UBC Okanagan Heat, while the WolfPack remain at home to host the Calgary Dinos.