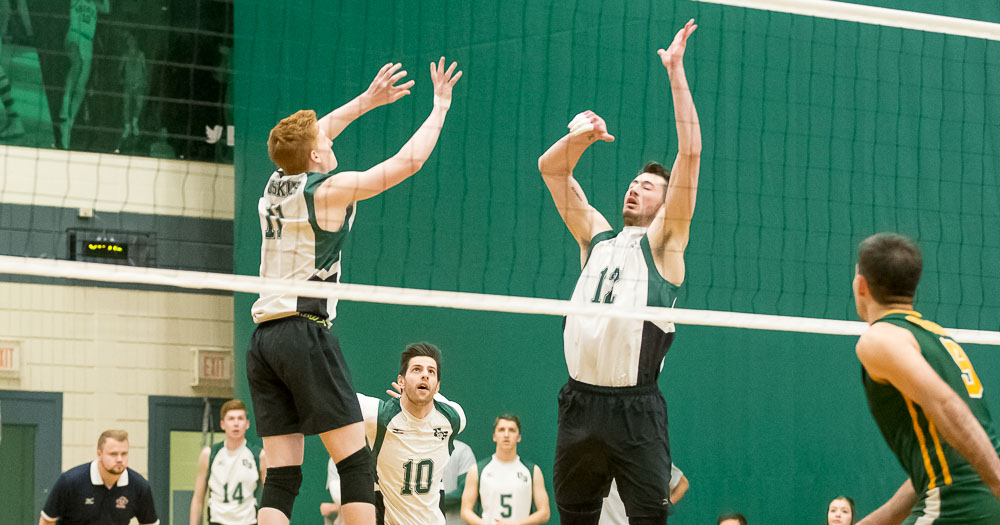 Click here for vs MacEwan Game Notes
Game Information

Date: Fri/Sat, January 12-13
Time: 8 p.m.
Location: Saskatoon, SK
Venue: Ron & Jane Graham Court at the Physical Activity Complex
Series ('14) SSK leads 6-0
Home SSK leads 2-0
Current Streak SSK W 6
Last Meeting Nov. 5, 2016
SSK 3 @ GMU 0
5 Things
Winners of three straight, the Huskies stand tied in the final playoff spot with the UBC Okanagan Heat at 5-9.

Saskatchewan is 6-0 all-time vs the Griffins. The first matchup came in the 2014-15 season.

The Huskies average 12.2 kills per set – good for third in the conference. On the other end, MacEwan's 9.9 kills per set is the only mark under 10 in the conference.

CJ Gavlas and Etienne Hagenbuch have recorded 99 and 100 digs respectively; both inside the top 10 of the conference.

Colin Fraser producing at an efficient rate so far this season – his 25% hitting percentage is good for fifth in the conference (min. 3 kills/set).
By The Numbers
25 - Griffin Max Vriend is fourth in the conference with 1.11 blocks per set.
77 - Colin Fraser is sixth in the conference with 3.44 kills per set.
86 - MacEwan's 12.8 points per set is a conference low.
157.5 - The Huskies average 15.8 points per set, good for third in the conference.
Scouting MacEwan Griffins
The MacEwan University Griffins (1-11) open up the second half of their season vs the Huskies. They lost their last four heading into the holiday break.

The Griffins have won 10 sets all season – lowest in the conference.

Their lone win came on the road vs the 6-8 Manitoba Bisons in a five-set match back on November 18th.