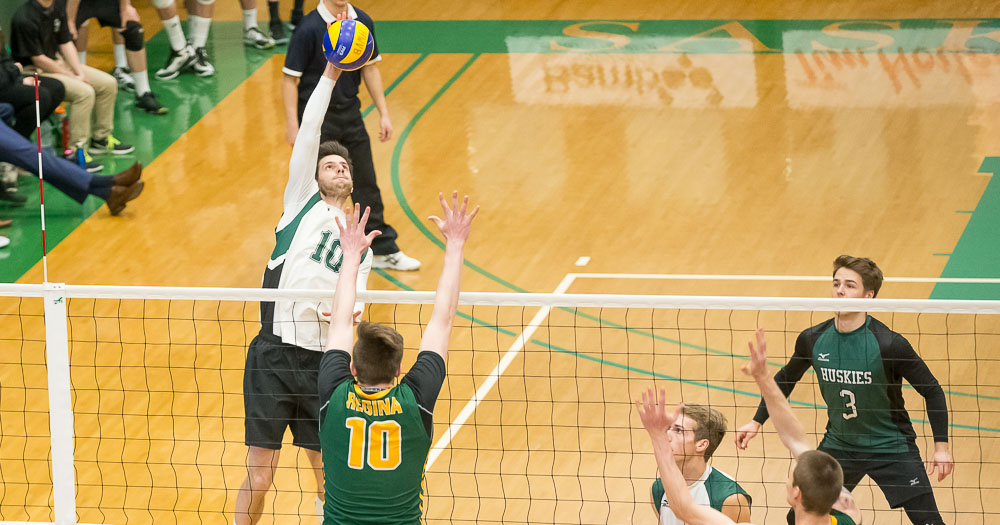 Tanner Michalenko, Saskatchewan Sports Information Student Assistant
SASKATOON – The University of Saskatchewan Huskies completed the sweep of the University of Regina Cougars with a 3-1 (25-19, 22-25, 25-21, 25-9) win Saturday night on Ron and Jane Graham Court at the PAC.
The match was tied one set apiece heading into the third, where Saskatchewan would run away with the match.
First-year Dylan Mortensen recorded a match-high 17 kills and added seven digs for the Huskies. Fourth-year Colin Fraser recorded 14 kills, seven digs and a service ace.
For Regina, fourth-year Brennan Goski recorded a team-high 11 kills and two digs. Third-year Cody Caldwell and second-year Matthew Aubrey each chipped in with nine kills.
The win improves Saskatchewan to 5-9. Regina falls to 1-13.
An opening 12-5 lead gave the Huskies room to work with in the first. Despite a timeout and a late attempt at a rally by Regina, two critical kills by second-year Matthew Meyer lifted the Huskies in the first set, 25-19.
Attack errors by the Huskies gave Regina an early 7-2 lead to start the second. The Huskies crawled all the way back to a 22-20 advantage late in the set. Despite strong play, Regina went on a 5-0 run to win 25-22.
The third opened with plenty of back and forth, unlike the opening two sets. A 6-2 run midway through the set gave the Cougars an 18-12 lead. The Huskies would storm back with a massive 13-3 run to close the set 25-21, with Meyer and Mortensen doing the damage for Saskatchewan.
In the final set, fifth-year Troy Wiebe couldn't be stopped at the service forcing Cougar attack errors to give the Huskies a commanding 10-1 lead. The mistakes proved costly for Regina as the deficit was too much to recover from. Huskies won the final set 25-9.
Saskatchewan stays at home next weekend to play the MacEwan University Griffins. Regina will travel back home to take on Thompson Rivers University WolfPack.