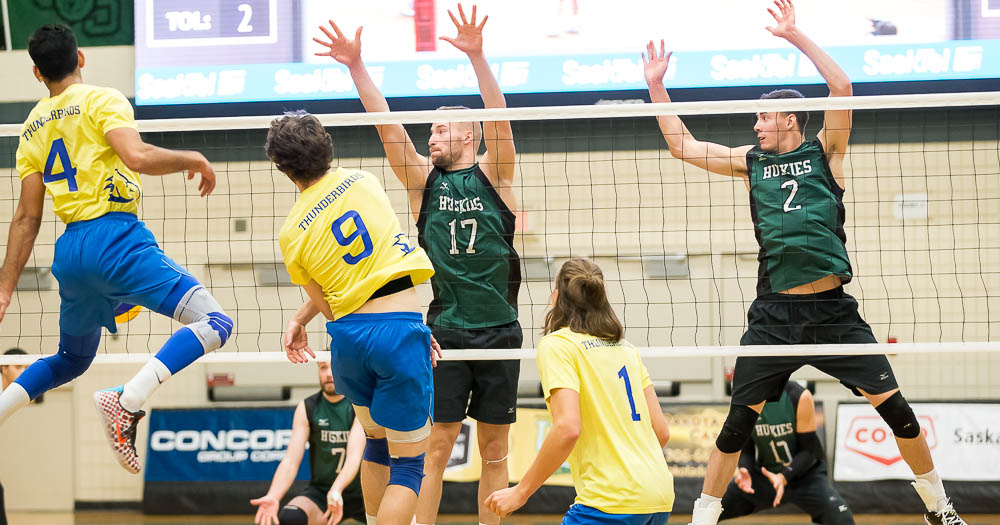 SASKATOON – The No. 3 ranked University of Manitoba Bisons completed a weekend sweep with a 3-0 (25-18, 25-20, 25-18) victory over the No. 8 ranked University of Saskatchewan Huskies Saturday night at the PAC in Saskatoon.
With the win, Manitoba improves to 9-1 on the season. Saskatchewan drops to 6-4. A night earlier, the Bisons won 3-1 (20-25, 25-23, 25-9, 25-23).
Manitoba jumped to a seven-point lead in the first set and Saskatchewan couldn't recover. Quick attacks by Ken Rooney and Evan Jackson ended the set 25-18.
Tied at seven in the second set, the Bisons pulled ahead scoring five straight points on a Dustin Spiring service run. A ball handling error gave Saskatchewan back the serve, but Devren Dear quickly returned the ball to the Bisons. Saskatchewan pulled within three at 23-20, but Manitoba scored the next two points for a 25-20 win.
The Bisons once again took a large lead in the third set that the Huskies couldn't recover from. Scott Vercaigne ended the match with a 25-18 win.
Dear led the Bisons in the win recorded 12 kills, while Adam Dejonckheere added another 11. Spiring tallied six digs in the match.
Andrew Nelson led Saskatchewan on the night recording nine kills, while Zak Rempel and Tyler Epp each recorded six.
Manitoba meets the Brandon Bobcats on December 8 to close out the first half of the season, while the Huskies return to the court January 6 visiting the Trinity Western Spartans.