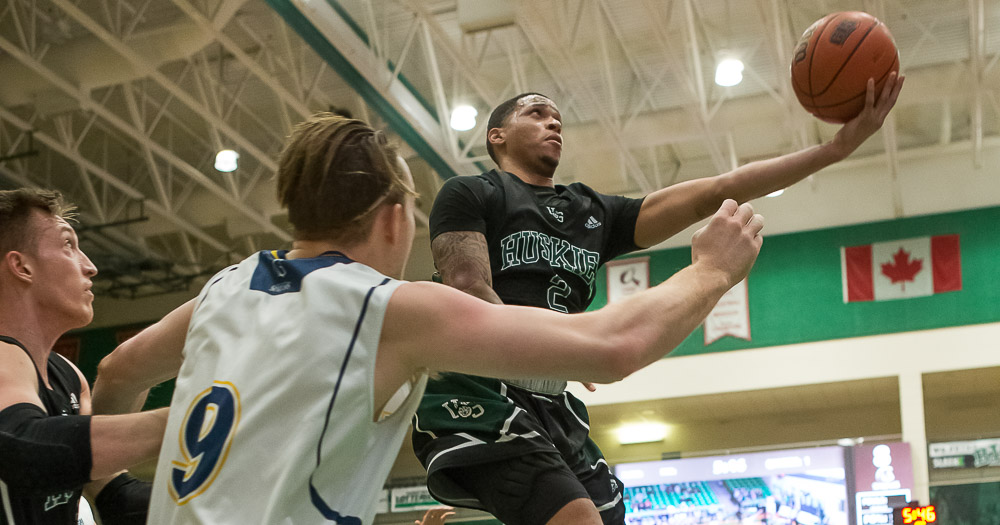 Tanner Michalenko, Saskatchewan Sports Information Student Assistant
SASKATOON – The University of Saskatchewan completed the weekend sweep versus the Trinity Western University Spartans Saturday night on Ron & Jane Centre Court at the PAC, winning 80-71.
With the win, the Huskies extended their win streak to five and improve to 7-9. Trinity Western drops to 1-15. A night earlier, the Huskies won 97-71.
For the second straight night, fourth-year Lawrence Moore led all scorers with 24 points, six rebounds and an assist. Third-year JT Robinson had 19 points and four rebounds. Fourth-year Joseph Barker recorded a double-double with 12 points and 10 rebounds.
For the Spartans, fourth-year Vartan Tanielian had a team-high 22 points with six rebounds. Second-year Pogos Trunyan chipped in with 17 points, nine rebounds and five assists.
An 11-0 run in the first propelled the Huskies to a 21-12 lead after the opening quarter. The nine-point lead was quickly erased in the second as Tanielian's three-point make capped off a 10-2 Spartan run to close the Huskie lead to just one. Robinson responded with back-to-back three-point makes to regain the breathing room. Huskies took a 38-34 lead into halftime.
Barker led the team to start the third, the Huskie forward earned four trips to the free-throw line and shot 6-for-8 from the charity stripe in the quarter. The Huskies led 65-53 heading into the final quarter.
A 9-2 Spartan run in the middle of the fourth cut the Huskie lead to single digits but it was too little too late for the Spartans.
The Huskies shot 37% on 73 shots from the field while the Spartans shot 42% on 60 shots. Saskatchewan also recorded 23 points off turnovers to just nine for Trinity Western.
Next weekend, the Huskies visit Brandon University to battle the Bobcats. The Spartans return home to take on the Thompson Rivers University WolfPack.