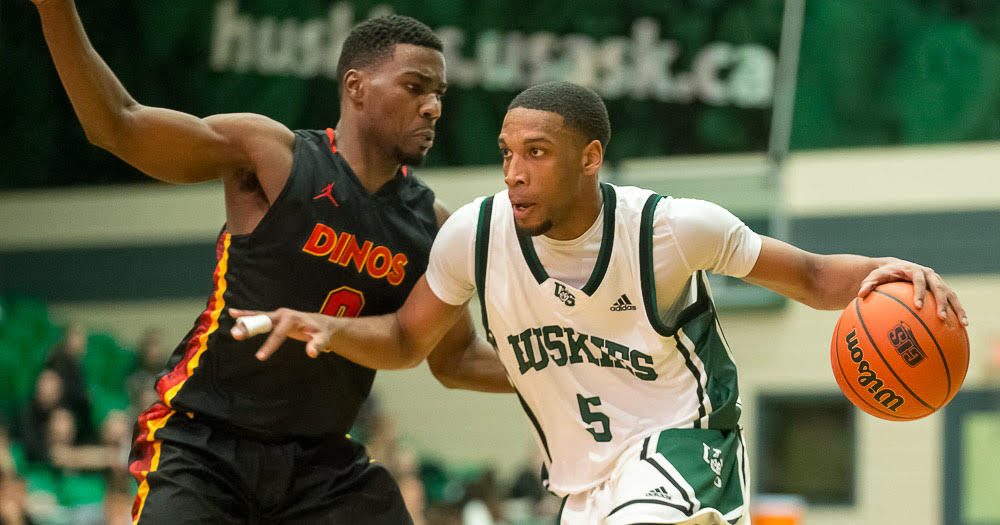 Tanner Michalenko, Saskatchewan Sports Information Student Assistant
SASKATOON – Using a strong defensive second quarter, the No. 4 ranked University of Calgary Dinos defeated the University of Saskatchewan Huskies 92-77 Friday night on Ron & Jane Centre Court at the PAC.
The Huskies had an early seven-point lead after the first quarter at 29-22. But Calgary held the Huskies' offence to just eight points and scored 25 of their own to help take a 10 point lead at halftime. The Dinos never relinquished the lead in the second half.
With the win, Calgary improves to 8-1. The Huskies drop to 2-7.
Canada West leading scorer Mambi Diawara lead the balanced Dinos offence, scoring 17 points with seven rebounds, seven assists and three steals. Second-year Max Eisele recorded 11 points, four rebounds and four assists.
For the Huskies, fifth-year Alex Unruh and fourth-year Lawrence Moore each scored a game-high 22 points. Unruh also supplied six rebounds, six assists, two steals and a block. Moore would finish with three rebounds, six assists, four steals and a block.
Saskatchewan started out strong in the first with three three-point makes in a row near the end of the quarter to give them their biggest lead of the game at nine. The Dinos would sneak in a bucket before the end of the quarter as the Huskies' took the lead into the second, 29-22.
Calgary stormed back in the second quarter, going on a 10-0 run to tie it at 34. A 12-2 run to close out the quarter gave them the double-digit advantage at halftime, 47-37.
In the third, the Dinos picked up where they left off. An early 9-2 run set the tone for the quarter as Calgary's lead grew to 18, 74-56. Saskatchewan would outscore the Dinos in the final quarter but it wasn't enough as the Dinos secured the 92-77 victory.
The teams meet again Saturday night in the final game of the first half of the 2017-18 Canada West season. Tipoff is at 8 p.m.